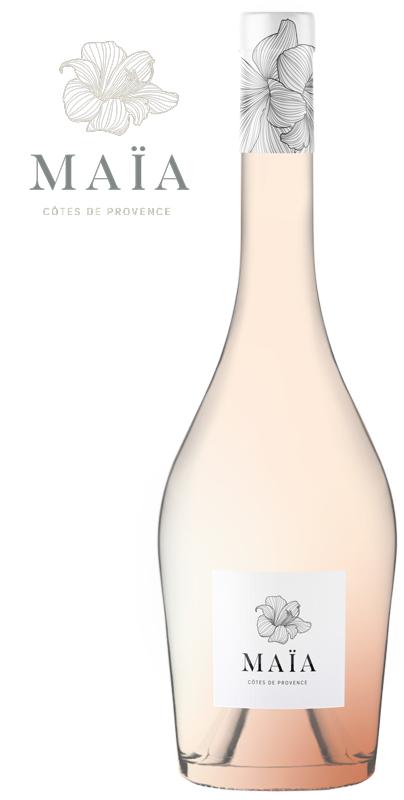 MAÏA is one of the newest wines in the range, and was blended by two Masters of Wine, Liam Steevenson and Mark Pygott, at Château St Maur in Cogolin.
A blend of Cinsault, Grenache, Syrah, Rolle and Mourvèdre from ancient vineyards in the heart of the Côtes de Provence appellation, MAÏA is sourced from some of the finest sites in the region. From the vine through winemaking to the glass itself, no expense is spared to ensure the finest wine reaches the customer.
In the vineyard, particular attention is paid to site-specific planting, with
each variety grown on the most appropriate part of the estate, allowing it to reach its full potential. Grenache is the most widely planted grape, prospering in the deep, almost stone free ground. The south-facing parcels, favoured by generous sunshine, are dedicated to the red wine varieties Syrah and Mourvèdre. The rockier, calcareous hillsides are conducive to a more mineral based expression and are therefore planted with Cinsault. Being southeast facing, the vineyard is directly influenced by the nearby Mediterranean Sea. The wines therefore offer a subtle character brought about by the sea air.
The sea breezes dry the vines after morning dew or rain and contribute directly to reducing the risk of disease.The inherent quality of the terroir is preserved and respected throughout the entire winemaking process, which aims to highlight rather than mask the unique qualities of the region.
MAÏA 2019,
Côtes de Provence
MAÏA is one of the newest wines in the range, and was blended by two Masters of Wine, Liam Steevenson and Mark Pygott, at Château St Maur in Cogolin.
Traditional winemaking techniques and applied innovative methods are combined to showcase both the unquestionable quality of the terroir, as well as the individual character of the Cinsault, Syrah, Grenache, Rolle and Mourvèdre varieties that make up the blend. Harvesting takes place in the early morning to avoid the oxidative issues that come from picking in the midday heat. During the harvest, grapes are selected and picked into small crates, both by machine and by hand depending on the plot. Once the grapes arrive in the cellar, they are sorted manually and then go through an optical sorting machine. The grapes are sent through a heat exchange system which reduce their temperature from what can be as high as 29 °C down to 7-8 °C, followed by a soft press which produces.
3 grades of what is primarily free run juice. The wine is fermented and aged on the lees with regular stirrings for 2 months in stainless steel.
Tasting Note
A beautiful pale salmon pink colour, MAÏA is an incredibly elegant Côtes de Provence rosé with layers of fruit balanced by refreshing acidity. On the nose the wine is eager and intense, with orange peel and red currant aromas. The palate carries these flavours through, with a soft roundness and a grippy, tight finish.